Flying with Ellie!
GEMSS would like to thank Ellie and her mother for their generosity in sharing this story with us. You have made the site come to life with the addition of your thoughts and feelings. Thank you so much!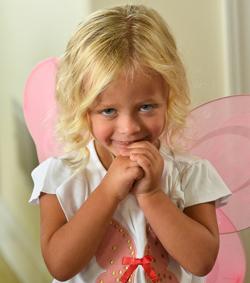 Ellie loves to snuggle each night in her Pennsylvania (USA) home with each one of her 4 older brothers and sisters and get hugs and kisses from all of them. In fact, one recent night when her brother went to a sleepover, Ellie cried herself to sleep because she missed their nightly ritual. Then each morning, when her sibs get on the bus, the same hugs and kisses are passed between them. She is also very affectionate, extra friendly, and very caring, especially of animals and babies. Her mother Jordi says that no one needs to ask Ellie to help, she just automatically notices and says 'Can I help you?' "She has amazing compassion and her spirit is so deep," says Jordi.
Ellie has come a long way since her weeks in the NICU as a preemie who came 6-7 weeks early. She had already graduated from Early Supports and Services when she received a diagnosis of Turners syndrome at age 3.  Up until that time, she had been diagnosed with cerebral palsy that was caused by lack of oxygen from the cord being tightly wrapped around her neck at birth. But Jordi persisted and wanted a medical work up for Ellie's short stature. It was the testing from the endocrinologist that confirmed the cause of her small stature was Turners.
The following year, Ellie had surgery to correct the reflux going into her kidney which is a single, horseshoe shaped kidney.  But as a result of the delay in getting diagnosed, her ureters and kidney were damaged by scar tissue and Ellie now has high blood pressure as a result. Ellie also has some fine and gross motor challenges, low muscle tone, some speech and other issues. Her academic challenges consist of math and spatial reasoning and social learning.
Jordi has wonderful hopes and dreams for her daughter. Of course, to be healthy, but also that Ellie will become fully who she really is and will make a difference in other people's lives. "She is a fighter and she has such grace. We want her to do whatever she wants to do and hope that her syndrome doesn't hold her back. Maybe she will be one of the rare women who can have a baby," says Jordi.
Jordi is feeling very good about Ellie's transition into a preschool program with children who do not all have disabilities. She is hopeful about the school year and all of the social opportunities Ellie will have. She is starting to make friends in the new program. It sounds like her strengths in the social area are already helping her connect and communicate! She does not want Ellie to have an aide with her as she doesn't want her to stick out socially. She is thinking of the future and the possibility of self-esteem issues, and doesn't want Ellie to feel she is different or feel insecure. It sounds like the phrase "Only as special as necessary" would apply to their approach to supports!
Jordi is a registered nurse and former child and family therapist. She is a substitute nurse in all 5 or her district's schools and has had lots of experience with children.
Her advice to parents is to:
Be your child's best advocate
Do all you possibly can to give them the very best life possible.
Try to be involved in groups and learn from all the information sources available.
 
Her advice to school nurses and teachers is to:
Know each child in the school who has a special condition.
Be their advocates and educate yourself on their condition.
Use your knowledge and skills to educate others on the team.
Take an interest in this child.
Know how vitally important it is to understand how this condition affects the learning process.
It is a fairness issue to make sure every child gets what she/he needs.