When you meet Tricia, you immediately tune into her warm smile, which is often followed by a contagious giggle! She is an energetic and lovely young woman, with a big sense of humor and matching spirit of fun. Tricia lives in a small New England town, and she, her family, and team have worked to create a good life for her, full of meaning, new experiences and ever-increasing independence.
Now 27, Tricia originally started her adult years involved in a program run by a vendor agency. She often participated in community outings, but her family didn't feel she was learning as much as she needed about living independently. Her family wondered, "What could we do differently to create a better, more stimulating and independent life for Tricia?" The answer was to design their own life plan with Tricia's input and run this "program" themselves. They all created goals that match Tricia's interests and needs, hired their own people to help ensure these goals could be realized, and have been working for the past three years to make this a strong, meaningful and ever-evolving life with Tricia leading the team.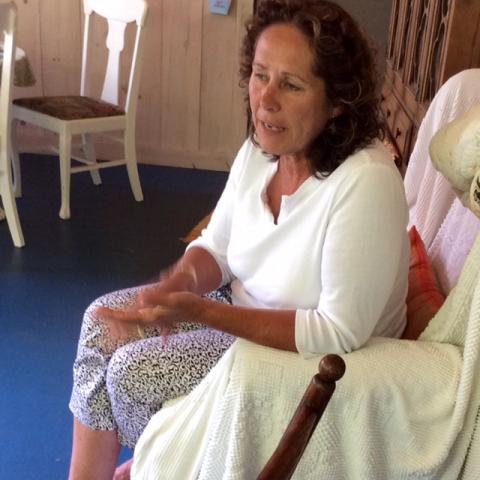 Enter Martha, a former teacher. Martha is part of a team set up to support Tricia in developing life skills to further her independence, and she oversees all components of Tricia's new plan.  They include: improving Tricia's verbal and written communication, staying organized, planning and cooking meals, and honing her social/soft skills. Tricia has become more proficient in writing, using her iPad, keeping track of time and money, and using a variety of technology to stay current and communicate effectively.
Then came Becky, Ashley, and Brianna (all are graduates of a local university in Sign Language Interpreting). Brianna currently supports Tricia in using her signing skills while working on a rigorous curriculum. By signing, Tricia can really "see" meanings and subtleties of language that aren't as easy to learn due to her hearing difficulties. Together with Brianna, Tricia assists ASL students in high school classes and attends a weekly deaf social hour where she enjoys interacting with young adults.
Tricia has been working at the local Walgreen's for 8 years, earning not only a pay check but recognition as Employee of the Month. As another part of her program, Tricia is a volunteer at a local high school and elementary school. Along with her work in ASL classes, Tricia runs the snack cart and does specific tasks in the library, guidance, and athletic office. This exposure to new activities and a wide range of people serves to increase Tricia's confidence, skills, independence and all-around enjoyment.
Donna, a third team member, facilitates Tricia's volunteer work for a care-giving organization in her community, helping to deliver personal care to an elderly woman who lives at home alone. Tricia does this with another young woman, and they have developed a friendship outside of work. She and Tricia look forward to their weekly outings - going out to lunch, seeing a movie or going to the mall.
When enjoying some leisure time, Tricia rides her bike around the neighborhood, reads, watches closed captioned movies, and performs with a play group, putting on two variety shows a year. Tricia competes in Special Olympics, excelling at track and field, as well as golf (a talent which runs in the family), and recently had the honor of signing the National Anthem during the opening ceremonies of the State Games.
With this new life plan in place and working so well, Tricia has become a more confident woman, a stronger communicator, and a more self-sufficient and involved member of her community.